Our autumn/winter collection is officially available on our website! In this collection we wanted to please everyone, so we created new models of sneakers, but also new models of boots.
One of the new models of boots that are making a lot of success are our Vilar model. This model has a more military style, and this chunky style is on trend this season.
So, we created three autumn outfits to show the versatility of these boots.
Outfit 1- Rockier Style
For this outfit we created a look based on black tones, for black lovers!
These boots go very well with a dress, so we chose a knee-length black dress, which can be adjusted at the waist with a black belt with studs. The studs on the belt are a detail that will emphasize the rockier style of this outfit.
When you think of rock, you think of leather, right? Well, the good news is that nowadays it is possible to find jackets made with more sustainable fabrics that are reminiscent of leather. So, we chose a black leather imitation jacket.
To finish this outfit, to break up the black a bit, we chose a green shoulder bag. The green is a colour that is always on trend in the autumn! Finally, as accessories, nothing better than some silver earrings to match with the tones of the belt studs.
Although this outfit is marked by the great presence of black, it is important to note that the key is to choose pieces with different fabrics. So don't be afraid to try a total black look!
Dress: armedangels
Belt: Jules & Jenn
Jacket: DAUNTLESS
Bag: Angela Roi
Earrings: Wonther
Outfit 2- City Outfit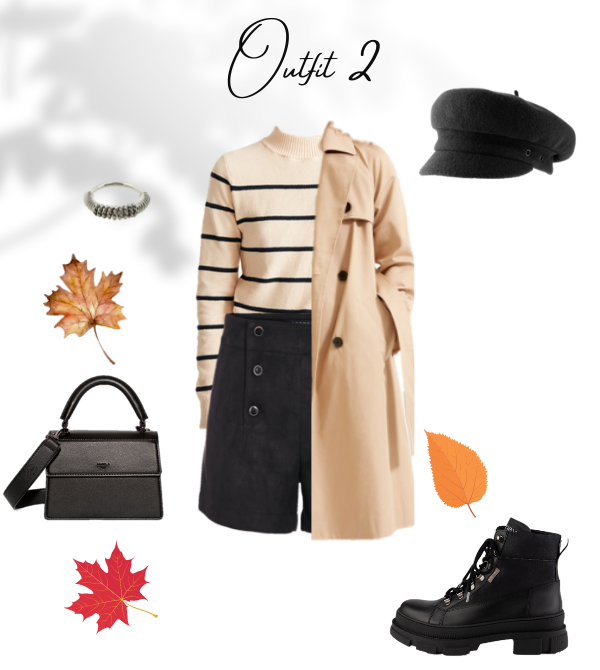 For the second look we created a more urban autumn outfit, similar to the Parisian style.
We chose a beige shirt with a black striped turtleneck for the cooler days and black shorts with a few buttons for a touch of fantasy.
As autumn is synonymous with trench coats, for this outfit we chose a typical beige trench coat, ideal for the cold as well as for the rain days.
To complete this autumn outfit, nothing better than a beret!
Finally, for accessories, we suggest a black shoulder bag and a silver ring.
If you want to wear a pair of pantyhose to face the cold, you can also wear a black 20 Denier pantyhose.
This autumn outfit in the beige and black tones has a more relaxed and chic look, we are sure you will love it!
Sweater: Thinking Mu
Shorts: BONOBO
Beret: bon clic bon genre
Gabardine: Everlane
Bag: Angela ROI
Ring: Mesh
Outfit 3- Work outfit
For the last outfit, we wanted to show that these boots can be used perfectly to go to work.
Although the Vilar model has a more casual style, if it is associated with more classic pieces, it can easily adapt to different situations, such as a workday.
The most classic piece of this outfit are the pants that have a straighter cut, reminiscent of chino pants. These pants have a plaid pattern in the colours, and believe us, it will be this detail that will give a different and modern touch to the look!
For the top, we chose a more basic black sweater that always goes with everything, right?
To add a touch of colour and life to this autumn outfit, we suggest an orange overcoat that will match very well with the colours of the pants.
Orange is a colour that goes very well with autumn, so don't hesitate to wear it.
As accessories, you can use a small black crocodile effect bag. This pattern and all animal effect patterns are on trend this season.
Some people hesitate to combine different patterns in the same outfit, but if they are well chosen you can create a very beautiful look. In this case, as the crocodile effect of the bag is quite subtle, it will go well with the plaid pattern.
Finally, as jewellery is an essential element of any outfit, we suggest a snake ring and some gold earrings that will make all the difference.
Sweater: Colorful standard
Pants: stellamccartney
Jacket: Lanius
Bag: Louvreuse
Jewelry: mesh
These are our suggestions for autumn outfits, hopefully you have been inspired and seen the versatility of these boots.
You can already think about adding all these pieces and the boots in your capsule wardrobe!