Corpo do texto:
The white sneaker has become a classic closet item, just like the famous black dress or the shirt.
How many times we look at our closet and don't know what to wear? Many times, right? The white sneaker turns out to be a great help, because it literally goes with everything and looks good in any situation.
It's important to point out that the white sneaker has become a must-have thanks also to its great versatility, since it can match and adapt to any style, whether it's more classic or sporty.
Fortunately, at Verney we also have sustainable white sneakers that you can easily buy and have in your closet!
In the spring/summer 2022 collection, we have 2 new models of white sneakers that we are sure you will love, and you may see them on our website.
For this article, we wanted to play with our Velia model and create different outfits for you to get inspired and at the same time discover other eco-friendly and sustainable brands.
Discover the sustainable outfit you like the most and that matches with your style here below!
For the first sustainable outfit we created a casual chic look that goes very well with our Velia sneaker.
This sustainable outfit is then composed of blue patterned pants and a thin white blouse, ideal for the hot days that are starting to feel.
To give a touch of colour to this look, we chose colourful accessories, namely a red bag and some earrings with a touch of red as well.
It is this splash of colour that will make the difference and draw the attention of others!
This sustainable outfit has a Parisian look because of the colours and its elegance, being an ideal outfit for an occasion where you need to be more dressed up but want to feel comfortable at the same time. Proof that comfort and elegance go perfectly together!
B: THINKING MU
C : ASHOKA Paris
The second sustainable outfit we created is the typical trendy casual look that we are sure you will love!
This outfit is composed of green tailoring pants plus a patterned shirt in the same green colours as the pants and orange shades. These bold shades ultimately look great together, don't you think?
In case you don't remember, in the article where we present this spring/summer's trends, one of the big trends this year is precisely to combine two strong colours that you wouldn't think would look good together and, in the end, they actually look good together.
The shirt is a piece that you can use in different ways according to your taste, you can for example, make a knot in the bottom of the shirt and get like a crop top, if it's hot you can roll up the sleeves and turn into a 3/4 sleeve, or finally, you can still use the more classic way and put the shirt inside the pants. There are several options, and you can play with the shirt in any way you like.
For this sustainable outfit we added another big trend: the baguette bag. This style of bag, which actually appeared in the 90s, has been on the comeback in recent years and has been very popular. Our suggestion is a beige/white baguette bag.
To finish this sustainable outfit, nothing better than a pair of transparent sunglasses with brown lenses to protect your eyes from the intense summer sun.
An urban, on-trend look perfect for everyday wear!
A/B: Stella Mccartney
C: Melie Bianco
D: Yeye
Is it possible to create a more relaxed sustainable outfit with a white sneaker? Of course, it is! Proof of that is this next outfit we created especially for you.
For the third sustainable outfit, we have created a more relaxed look ideal to wear comfortably during your vacation.
This outfit is composed of a green fluid dress with a floral pattern. In fact, the dress being a one-piece piece, it always turns out to be a very practical piece that adapts to many situations. For example, you know those days when you don't know what to wear or you are just in a hurry? Well, if you have a dress in your closet just put it on and you will be ready very quickly!
The dress chosen has a flowered pattern, a pattern that is always trending during the summer and as could not be missed, this year it is also on the trend list this spring/summer.
Accessories are always an important part to finish a look, so we chose a straw handbag and earrings in light tones.
Straw handbags are inspired by the 70s and have been a big trend in the last few years, especially in spring and summer. There are more and more different shapes and designs, and an important aspect is the fact that this type of bag is no longer only used on the beach, but also incorporated in more urban outfits.
In this sense, you can use this suggestion on the beach, in the countryside, or even in the city!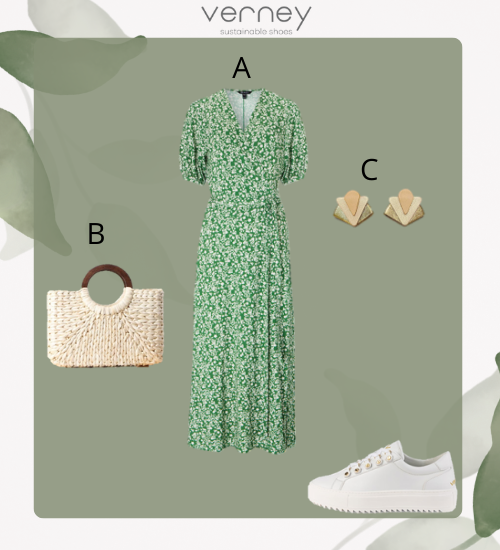 A: Baukjen
B: Shaulaa
C : Ni une ni deux
For the last sustainable outfit, we created a basic and comfortable outfit that you can wear in your everyday life.
This outfit consists of two basic pieces: jeans and a white t-shirt. Two pieces that we are sure you have in your closet, right?
To give a different touch to this outfit we added a trendy piece, namely a vest. We chose a short white sleeveless tailoring vest that will add a trendy touch to this basic outfit.
It should be noted that the secret to having a successful look is to choose basic pieces and add a trendy piece to the outfit, be it in the form of accessories or even a piece of clothing.
For the accessories, we chose light, pastels, and golds tones. In this sense, we chose simple golden earrings, a bag in a trendy tone - light blue, and finally, a white watch to always be on time.
A practical, simple, and comfortable outfit that you can wear on any occasion of your day!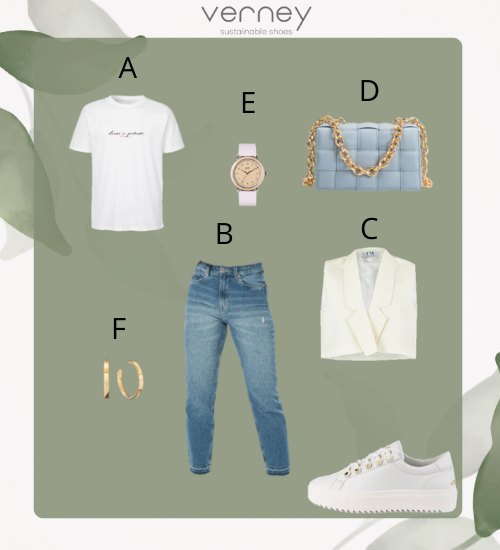 A: Birdsong
B: Nowa jeans
D: Melie Bianco
E: Dwyt
F: Mejuri
These are our suggestions for sustainable outfits, with this article we wanted to show the versatility of the white sneaker and how you can create different outfits according to your personal style. The best of all is that each sustainable outfit, as the name suggests, is composed entirely of pieces from sustainable and environmentally friendly brands.
We hope you enjoyed these outfits and discovered new brands that follow the Verney values!
Don't forget that if you like our Velia model, used as reference in this article, you can find this model available on our website.
---
---