Don't know what to wear in summer? We know that with the rising temperatures we no longer know what to wear to be comfortable, withstand the summer heat and look presentable at the same time.
If you don't have the patience to think of looks to wear in this heat, we have made it easy for you and created 5 wonderful summer looks with our Verney designs.
For look 1, we created a casual look for a walk by the sea, in the countryside or just to relax.
For the look, we chose a white top and shorts, which are reminiscent of a two-piece set, which is very trendy.
Also, light colours, such as white, are great colours to wear in summer as they absorb less energy than dark colours.
To give this look an even more country or beachy feel, we added a wicker bag, where you can store your beach towel or tablecloth for a nice picnic.
To complete the look, we chose simple gold earrings.
And finally, we thought our Violet Canna Yellow would be the perfect model for this look.
We chose the yellow model because it matches with the neutral colours of the other pieces, and we also wanted to add a touch of colour to the look.
Bag: Sézane
Top: Sézane
Shorts: 17h10
Earrings: Wonther
Hat: OBI-OBI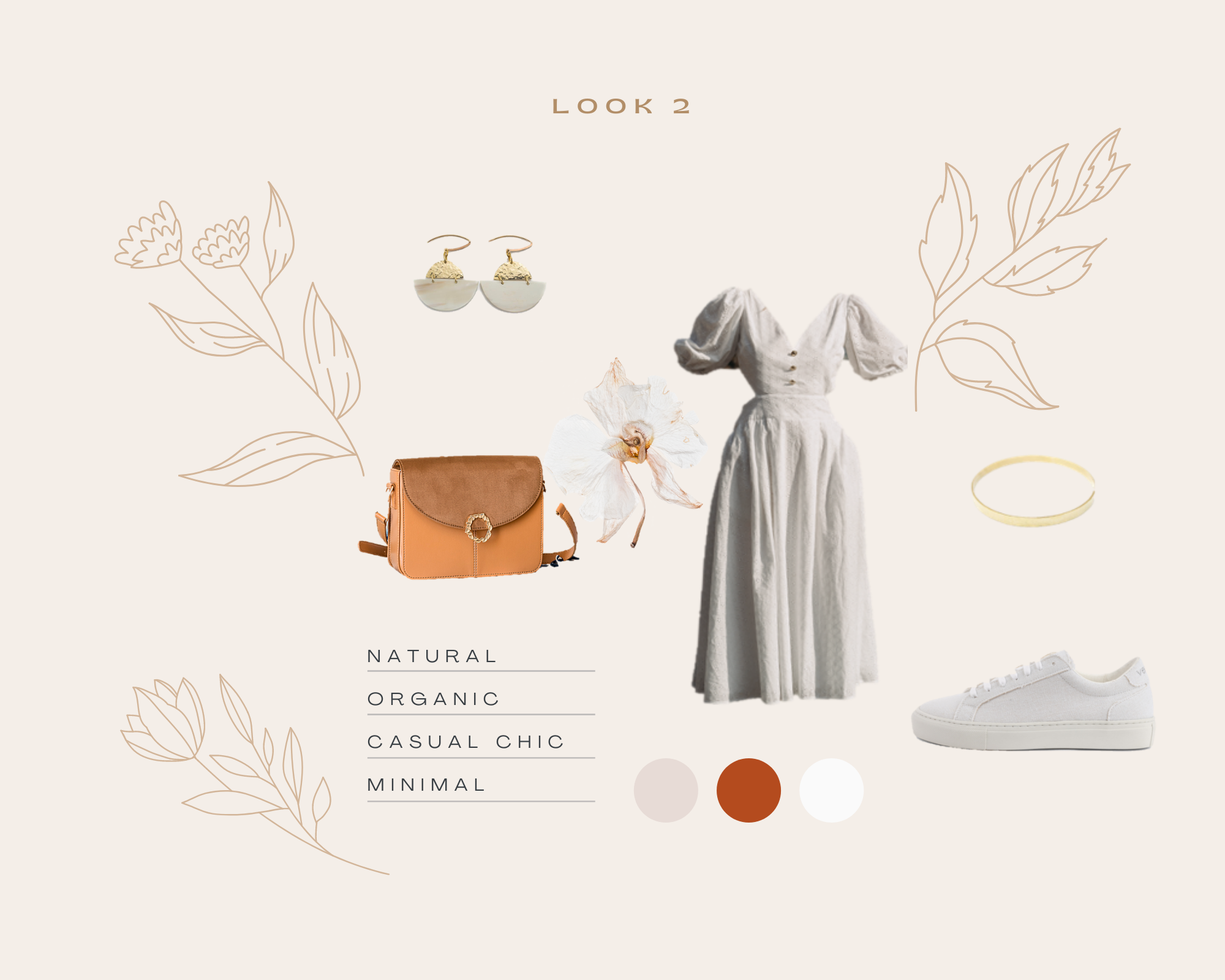 For the second look, we wanted to create a casual- chic look. With this look, you can perfectly go to work, as well as to the city to have a coffee with a friend.
The centrepiece of this look is definitely the dress! We chose a white dress, with gold details that, being fluid and structured, give a more chic look to the dress, without making it look like a beach dress.
As accessories we added a delicate gold bracelet and white and gold earrings.
And since a woman can't go out without a handbag, we chose a medium-sized shoulder bag. Camel is a trendy colour at the moment, and it also goes perfectly with the white and gold tones of the look.
For this look we chose our Vanilla Canna White trainers to give the look a more casual and relaxed feel.
Dress: The Almond
Bag: Minuit sur Terre
Earrings: yala
Bracelet: yala
And since summer calls for colourful looks, we created a look with warm colours floral prints.
We can say that this summer look has a more bohemian side.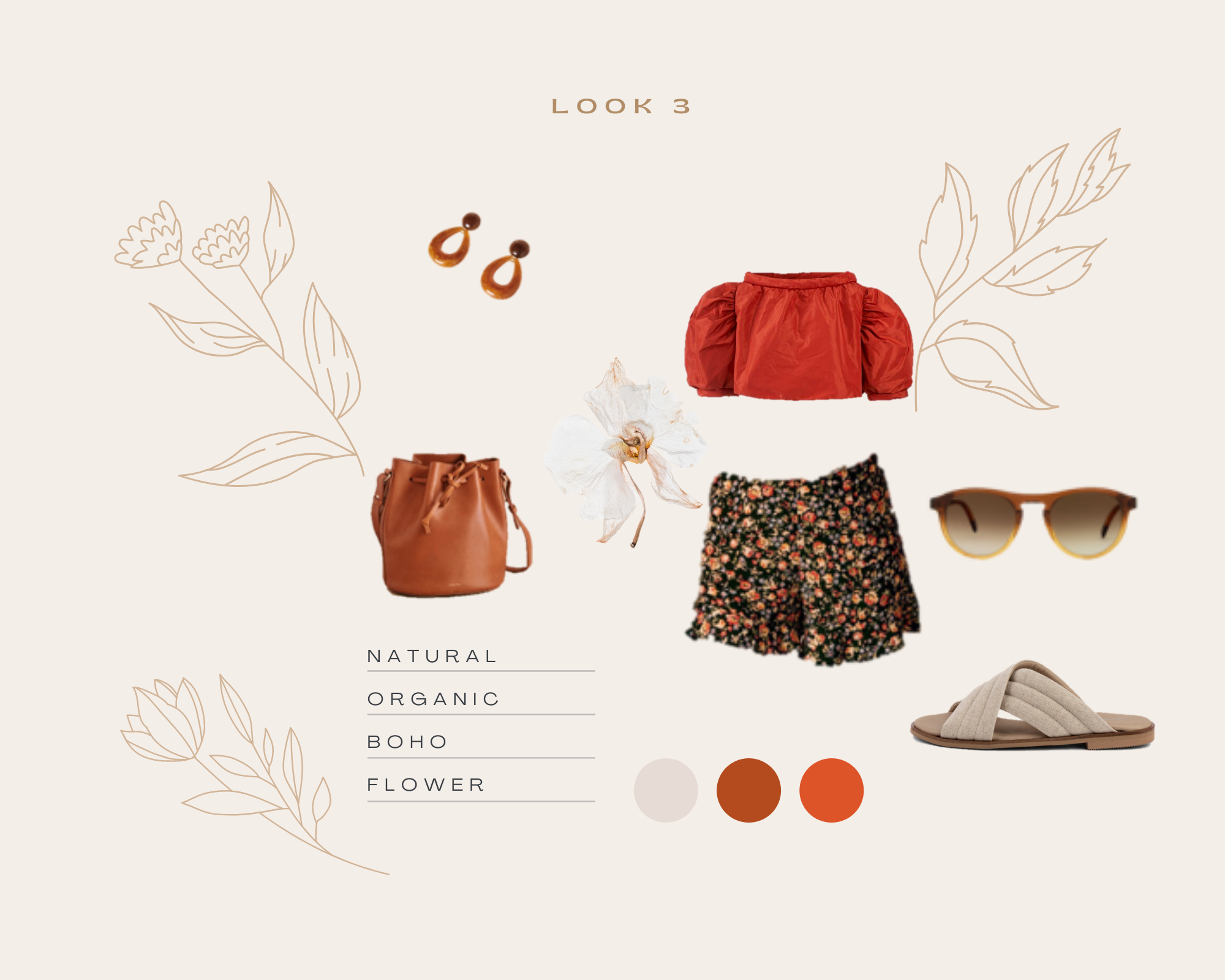 For the third look, we chose a colourful top and floral shorts.
As accessories we chose brown earrings and brown sunglasses.
The bag we chose for this look is a medium sized bag that is perfect for everything you need to take with you for the day.
For this summer look, we combined our Violet Canna Nude sandals. As the look is already colourful, we wanted to opt for a nude-coloured pair of shoes that would go with everything.
Top : Buzina
Shorts: Sézane
Bag: Sézane
Earrings : Sézane
Sunglasses : Dick Moby
The fourth look is a more chic look.
For this look, we wanted to create a more dressed up and chic look with sneakers.
It proves that you don't always have to wear heels to be chic.
For this look, we chose a set (top and shorts) because it's always a good choice!
To accessorise, we chose statement silver earrings and a hairband in metallic tones.
To add a little colour to this look, we chose a purple handbag. Purple and lavender are also very trendy colours this season!
Finally, we chose our Victory Nappa White to complete the look.
Top and shorts: Rêve en vert
Earrings: Mesh
Bag: Angela Roi
Hairband : Les récupérables
For the fifth and final look, we created a more sporty and casual summer look.
In addition, we wanted to create a look for those who are not fans of colour and prefer darker tones.
This look is composed of a white t-shirt and grey jeans with a mom-jeans cut (very trendy at the moment).
As accessories, we chose black sunglasses and a yellow watch, to be always on time!
The bag we chose for this look is a black shoulder bag with some colourful details.
To finish the look, we need shoes, right? We chose our Vanilla Apple Black. As you can see, you can also wear a pair of black trainers in summer!
Top : less.buyless
Trousers : Stella Mccartney Paris
Bag : IDYR
Sunglasses : Dick Moby
Watch: D.W.Y.T
What do you think of these looks? We think these looks are very cute to wear in summer and besides, as you can see, you can create many different styles with our models!
But we'll leave the best news for last: all the brands we've mentioned are, just like us, sustainable and eco-friendly brands! This proves that you can dress according to the trends and respect the environment at the same time.