The holidays are coming up, and who doesn't like to dress up for those days?
However, in the midst of the hustle and bustle of gift shopping, choosing the right holiday outfit can be another headache. That's why this year we wanted to help you find the perfect outfit for you.
In this article, we suggest 4 outfits for the holidays. You will find suggestions for all tastes and especially, with pieces from brands that respect the environment and the animals!
For this outfit, we wanted to create a holiday outfit for those who are fans of a more classic style. And there is nothing more classic than a little red dress. Without a doubt, red is a very popular colour this holiday season, so a simple little red dress is always a great choice. To wake up this dress, there is nothing better than some beautiful accessories, such as an imposing necklace.
Since a woman can't leave home without a handbag, we chose a clutch to give this outfit an even more elegant touch for the holidays.
A woman can be elegant without heels, however, for this outfit we thought boots with a comfortable heel would be ideal. So, our Veronica boots were chosen. These boots have a 5/6 cm heel and their block shape, makes this model comfortable. Thus, you will be able to hold all the evening without fearing to have pain in the feet!
Finally, since the cold temperatures are already making themselves felt, there is nothing better than a black coat.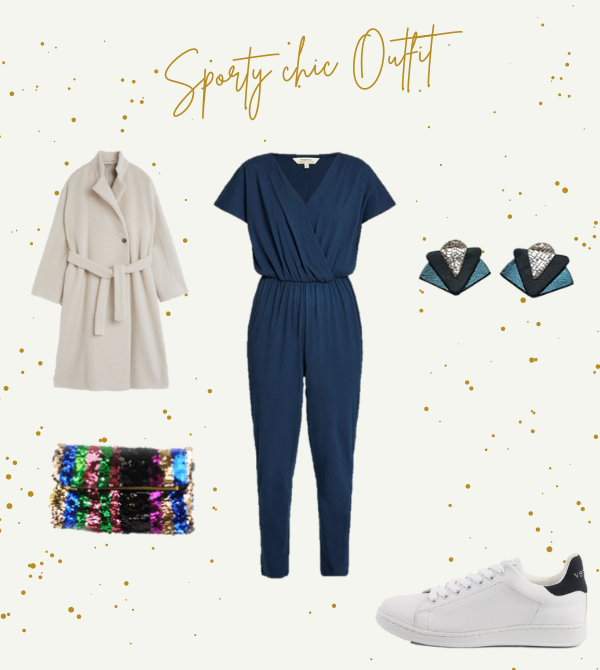 There are certainly many people who like to keep their sporty side, even on special occasions. That's why we created a holiday outfit with this in mind!
The basic piece of this outfit is a jumpsuit. Just like dresses, jumpsuits are a piece that can be adapted to any style and with different accessories, you can create different outfits. In addition, the jumpsuit is always a stylish and especially comfortable piece.
To give the outfit a more festive touch, we chose a colourful bag and a blue and gold earring.
Since we choice a short sleeve jumpsuit we opted for a coat in white tones.
To complete this outfit, we chose to pair it with our Venera model.
This model is simple, but with a blue detail on the back of the shoe that goes very well with the colour of the jumpsuit.
Who doesn't love a touch of shine this time of year? Thinking of those who love to shine, we created an outfit full of brilliance, but at the same time comfortable.
The main piece of this holiday outfit is a shiny black dress with a detail on the sleeves.
When you choose a flashy piece like this, all the other pieces that will make up the outfit should be simpler. After all, we don't want to look like a Christmas tree, do we?
With that in mind, we chose a simple black bag and black earrings with a subtle touch of gold.
To keep warm, we added a coat in beige tones. Beige and black are great colours to match, so don't hesitate to go for it!
Finally, our Vilar boots were the model chosen to complete this outfit.
Our last suggestion is a more casual chic outfit, so you feel elegant but comfortable at the same time.
For this holiday outfit, we left the dresses out and gave pants a chance.
That's why we chose black chino pants, combined with a white shirt. Two great classics of the wardrobe! The shirt chosen, is different from the others by its large collar, a great trend of the moment.
We wanted to give a touch of fantasy to this outfit, by choosing a gold bag and black and gold earrings.
These tones combine very well with our Vanda model!
Finally, there's nothing better than a nice coat in camel. Just like beige, camel goes great with black and white, so it's always a good choice.
Here are the holiday outfit suggestions we've chosen for you; we hope you've picked up some tips.
The Verney team wishes you happy holidays!
See you next year.