Spring is finally here and with it is time to think about putting away the warm winter clothes and give way to fresher clothes.
When we change seasons, new trends also emerge and, in this article, we want to show you that you can perfectly continue to follow a more sustainable lifestyle through sustainable and ethical fashion, following the trends anyway.
When we talk about following the trends, it doesn't mean going out to buy new clothes or changing your style. On the opposite, fashions and trends repeat themselves, and you may already have these pieces in your closet. In fact, trends end up being defined by what is most often seen on the runway shows of major brands.
At Verney we believe that everyone is free to wear what they want, and trends are just a kind of guide where you can find what's going to be hot that season. It's up to each one of you to decide if you like it or not, and if you're going to wear it or not.
Just like every year, this year there emerged some spring/summer trends that we want to share with you! If you are not up to date yet, we invite you to read this article until the end. Also, throughout the article we will mention sustainable and ethical brands that you may discover and enjoy!
Vivid Colours
Trends cover everything, including colours, prints, shoes or even accessories.
In this first trend we are going to discuss something simple: colours. Surely you must have noticed that when you walk into several stores there are always repetitive colours that jump out at you right away. This in a way indicates that that colour is trending at that time.
This year is the year of bright colours and colour mixing! That's right don't hesitate to combine an orange and a pink, because that is a big spring/summer trend.
This year the fashion is really about catching the eye with bright, vivid colours, and combining pieces with strong colours helps to give even more personality to outfits.
So, what are the trend colours this spring/summer? Blue, pink, orange, green or even red.
The big question is, is it possible to find colourful and sustainable pieces? The answer is yes! You can see below our suggestions.
Suggestions:
The dress is always a very easy piece to wear and quite cool for the warmer days. We suggest two dresses with vivid colours, we guarantee you will not pass unnoticed... and that is the goal!
A: Bodenusa
B: Buzina
Pastel colours
If you are a more discreet person and were afraid of vivid, eye-catching colours, we have good news for you.
Not only are vivid colours the spring/summer trend, but pastel colours, which are lighter and softer colours, are also on the uptrend. In fact, these colours have been trending for the past few years, which proves that trends eventually repeat themselves, helping in sustainability and reducing consumerism!
Suggestions:
For this trend we suggest a puff sleeve top, a type of sleeve that stays on trend spring/summer, in a lavender colour. Another very trendy pastel colour is pastel mint and for this we suggest a simple dress, very easy to combine and build a look around it. You can also find in our new spring/summer collection sandals in pastel shades that we are sure you will love!
A: Buzina
B: People Tree
Floral patterns
Floral patterns are already a spring/summer trend that can't be missed this season, right? And since this year is no exception, flowers continue to show their grace this season.
Flowers begin to bloom in spring, so this flowery pattern automatically reminds us of warmer, brighter days.
This year we will find this pattern on several pieces, such as on dresses, tops, shoes or even on accessories.
Suggestions:
The flowered dress is already a great classic throughout spring/summer, right? So, our first suggestion is a midi blue dress. This dress is perfect for any occasion, you can easily create a more relaxed outfit using sneakers, or a more elegant style with sandals or heels.
Another suggestion we leave, are some flowered shorts in pastel shades. Two trends together, what more could you ask for?
The best of all is that they are sustainable and ecological brands!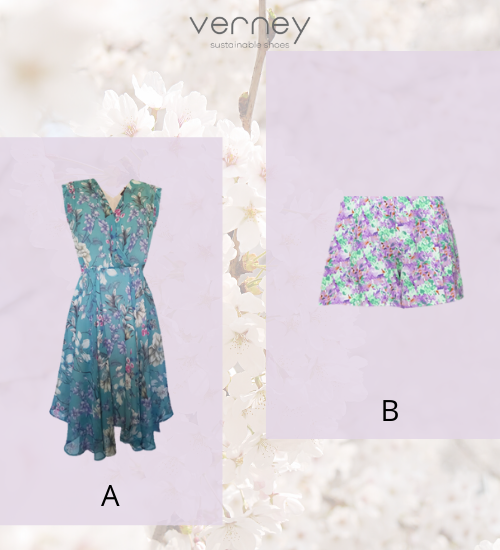 Miniskirt
Forget the long or midi skirt, what's in fashion is the miniskirt!
The miniskirt will be a big spring/summer trend so take a chance and dare to show off your legs. You can find miniskirts in vivid shades or pastel colours, in other words, in this season's on-trend colours. To get a chic look without being too much, you can balance the audacity of a miniskirt with a more classic piece, such as a blazer. By the way, ensembles are very much on trend lately, so you will see a lot of skirt+blazer ensembles around!
Suggestions:
For our suggestions we present two miniskirts from two sustainable brands that we are sure you will love.
We leave two different options, one in pastel pink colour and the other more classic in black shades.
A: BYOU
B: Whimsy + Row
Crochet
Crochet has already been part of the spring/summer trends, and this year it will continue to be! It will be possible to find clothing pieces made in crochet, but also in accessories and handbags.
The positive thing is that this year there is a greater appreciation for handmade pieces, ending up helping local businesses.
Suggestion:
As Verney supports and values everything handmade, we give the suggestion of the pieces made at PEA + POD. A Portuguese brand based in Lisbon, this brand makes its products in an artisanal way and therefore has a small-scale production. The brand's goal is really to reconnect people with handmade clothing.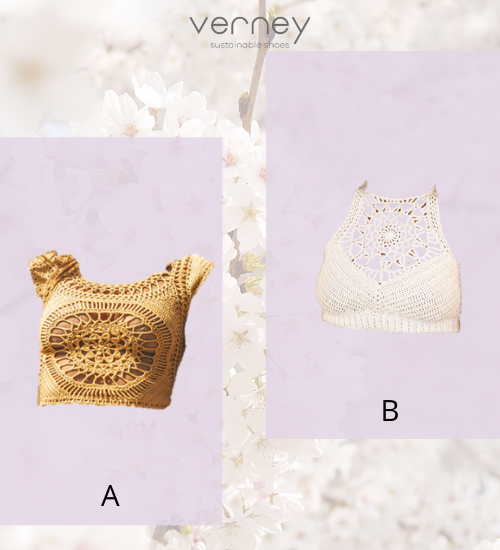 A/B: PEA + POD
Here are some of the spring/summer trends, so check your closet now for trendy pieces that you have around somewhere. We also suggest you start thinking about creating your capsule closet this season now! If you need to add some pieces that you really need you can always check the suggested brands, as well as follow the tips in this article.
Don't forget to follow the trends in a sustainable and conscious way!
We hope we have helped you!