We have officially arrived in the season of hot chocolates, lighted fireplaces, yellow and brown leaves, shorter and colder days, better said... autumn is already here and winter is already showing its face!
With that, it is time to put away the fresh dresses and sandals in your closet and start wearing that warm coat and those comfortable boots. It's also time to prepare your capsule wardrobe for the coming seasons, right? So, with that in mind, in this article we will show you some of the Autumn/Winter 2022 trends so you know what to include in your capsule wardrobe.
If you haven't yet created your capsule wardrobe or are having trouble knowing which pieces to include, get out your notebook and write down some suggestions that catch your attention! In addition, we will also be showing trending clothing pieces from ethical and sustainable brands, it will be the perfect opportunity to discover other brands with similar values and principles as Verney.
Colours
This year in the Autumn/Winter 2022 trends, as far as colours are concerned, we will observe a great tendency to use vivid and strong colours.
While there is a big habit on the part of people to wear darker colours in autumn/winter, this year we will observe just the opposite and the streets will be more colourful. In this sense, the autumn/winter trend colours will focus essentially on the tones:
Green
Pink
Purple/Violet
Red
Yellow
If you don't like to be noticed, don't worry because neutral colours will continue to be a big trend this year and as we know they are always colours that never disappoint. So, you can include in your Autumn/Winter looks colours such as:
Suggestions:
1- Summersalt
2- Naz
3- Nina Rein
Patterns
Wearing plain clothes is always a safe choice if you don't like to risk too much.
However, if there is one thing we can agree on, it is that patterned pieces always give a different touch to outfits. So, if you like to wear patterns, keep an eye out for the following Autumn/Winter 2022 trend patterns:
Animal patterns
Chickened pattern
Geometric patterns
These patterns have already been a trend in recent times, in fact chickened and animal patterns are already characteristic of these colder seasons, so surely you must already have pieces from previous years that you can reuse this year! If you need something new, take a look at our sustainable suggestions below.
Suggestions: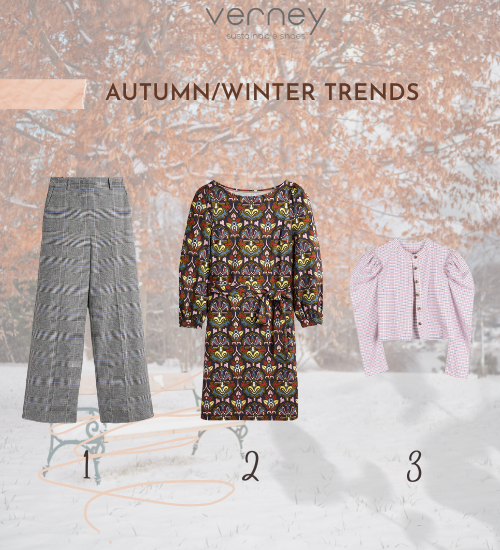 1/2- Boden
3- Fanfare
Fabrics
This year in the autumn/winter 2022 trends we will find several types of fabrics that will be on trend.
In these cold months we will observe pieces made with warmer materials, which is normal at this time, because human beings need to withstand the cold that is felt during mainly the winter. However, we will also find pieces made of lighter and festive fabrics, which we recommend wearing with a very warm jacket!
Check out some of the fabrics that will be on trend this season:
See-through fabrics
Shiny fabrics
Tweed
Leather effect fabrics
Fabrics imitating fur
Quilted fabric (Matelassé)
Knitting
Suggestions:
1/2/3- Baukjen
Must-have pieces
In addition to the colours, patterns and fabrics trending there are pieces that will be a big trend this autumn/winter 2022.
Check out some of these pieces:
Maxi/oversized jackets
Bomber Jacket
Dresses
Tailoring pieces
Mini skirts
Wide Leg Pants
Feather and fringe pieces
Comfortable pieces
After these pandemic years it has been observed that people are looking for more and more comfortable and versatile clothes, so don't be surprised to see more comfortable and oversized styled clothes (like jackets) on sale, as this is definitely one of the big autumn/winter trends this year.
This year is also the year to take a chance on dresses and miniskirts! Although many people do not dare to wear these types of pieces in the cold seasons, the truth is that these can and should also be worn in both autumn and winter. Our suggestion is to wear half pants or high boots and of course choose dresses with fabrics more appropriate for this time of year.
Finally, we would like to highlight Wide Leg pants, a style of pants that has been gaining more and more fans thanks to their power to lengthen the silhouette and give an elegant and sophisticated touch. In addition, these types of pants go with many styles and we can find them in different fabrics.
Suggestions:
1/2- Kotn
3- Lanius
Shoes
Last but not least, let's talk about the Autumn/Winter 2022 trend shoes.
This year we can find several styles of shoes, both boots and sneakers, that please all tastes, such as:
Chelsea boot
Derby shoes
Moccasins
Knee boots
Country/cowboy boots
Wellingtons
Platform shoes
High top sneakers
Military boots
As you can see there is ample choice and there are shoes for all tastes and styles! In fact, on Verney's website you can find several trendy boots, namely Chelsea boots, military boots or even moccasins.
Suggestions:
1/3- Verney
2- Saye brand
These are some of the autumn/winter 2022 trends that you can't miss, we hope you've taken note of all our suggestions and don't forget to always consume in a conscious and responsible way! Trends repeat themselves, so look in your closet for what you already have and can reuse. You can also search your mother's or even your grandmother's closet, who knows you will find beautiful treasures lost in time. If you choose to buy, always give preference to second-hand clothing stores.