Nowadays, the moccasin is a trend item, and an indispensable item in the closet of many women, especially fashionistas.
Besides being a very comfortable and easy shoe to wear, the moccasin is characterized by its formal and elegant look. So, if you want to build a more 'dressed up' outfit and feel comfortable at the same time, just put on a pair of moccasins and the matter is solved!
We can find different styles of moccasins on the market, from moccasins with a higher sole, with metallic appliqués, or even in different colours. So, there are moccasins for all tastes and styles.
What they all have in common is the fact that they are ideal for the warmer months and match with skirts, pants, shorts, or dresses.
In this article we want to show you this versatility of the moccasin, giving you some suggestions for outfits with our Veron moccasin.
The Veron model is a model with a simple design, which is characterized by its thicker sole, following the trends of current designs. This moccasin also has a silver metallic appliqué on the buckle, giving the shoe a touch of fantasy.
Discover the outfits we have chosen for you!
Outfit 1
For the first outfit we created a look with an elegant style, with a touch of trendiness and boldness. This outfit can be worn on a workday, as well as a day out with friends.
Our suggestion is to use unique pieces, such as jumpsuits or overalls.
In this sense, we chose some elegant black overalls, which we combined with a white blouse. The chosen blouse is characterized by its rounded collar ('baby collar') and its black lace in the centre of the collar that falls over the rest of the blouse. These are the kinds of details that will make all the difference and that we recommend taking a chance on! However, if you like things simpler, you can also opt for a basic white blouse or shirt.
For a touch of fantasy and trendiness, you can combine it with a patterned bag, such as the snake pattern, which is very fashionable these days. The key is to always add a trendy piece, even in accessory form, to make your outfit modern.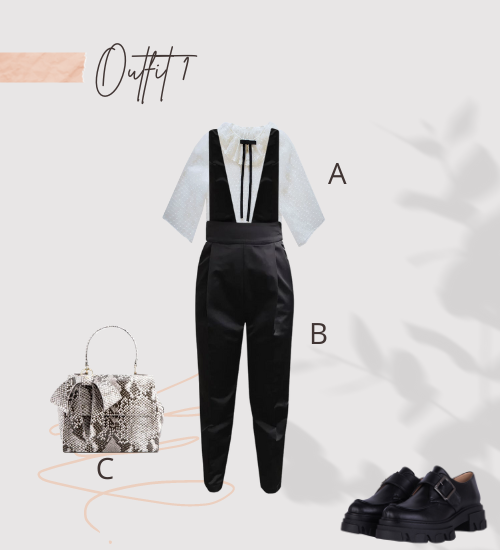 A: Glase
B: Jacarandá
Outfit 2
The second outfit will please those who love to follow trends, as it is a very modern and trendy outfit.
Our suggestion is a set of blazer + skirt with a Scottish pattern. Nowadays, sets have become the big trend of the moment, especially if the set is composed of blazer and skirt/shorts/pants. In addition, the Scottish pattern is a characteristic pattern of the colder months like autumn/winter, so it is a pattern that never fails!
For the bag, we suggest a handbag in a baguette shape, a type of shape that is very popular.
Finally, if you want to add a touch more modernity, you can add a white sock to be on the cutting edge of fashion!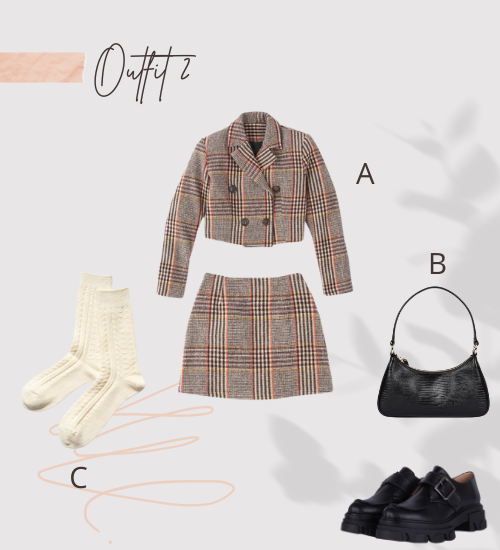 A: Kotn
B: Hyer Goods
Outfit 3
Our last suggestion is for a more classy and elegant outfit, ideal for a day's work or a meeting.
We suggest some classic black pants, combined with a black turtleneck. For that touch of class, you can combine it with a coloured or patterned blazer. In this case, we chose a beige blazer, as it is a neutral colour that goes very well with black.
To finish this look, you can add a basic bag or a bag with some pattern, depending on your tastes and the blazer you choose. In this case, we opted for a black handbag with colourful appliqués, to add some colour to this outfit marked by neutral colours.
A: Bodenusa
B: Summersalt
C: Thought
D: Behno
Moccasins are a type of shoe that match either in ultra-modern outfits or in more casual and elegant ones, so they are a type of shoe that easily adapts to your style. With our suggestions and tips, you no longer have any excuses not to try this much-loved shoe!
---
---